Washington Horse Racing Betting
While the issue of sports betting in Washington is still a heavily debated topic, Washington horse racing betting is a matter that has already been decided and put to bed. Still, the laws that dictate this popular form of wagering can get confusing and a bit hard to decipher. Fans of the most exciting minutes in sports should apprise themselves of the legal ramifications of betting on horse racing in Washington.
On this page, we'll review the horse racing betting laws in Washington. We'll also include a list of viable pari-mutuel wagering facilities and off-track locations available to residents. As horse racing betting has just continued to grow in popularity, we've also decided to include a small section on how to bet on the horses, for newcomers. To conclude, we'll also go over our favorite online horse racing betting sites. These websites provide all of the best parts of betting on horses, without any of the downfalls. Washington horse racing betting enthusiasts will soon come to call this site home.

Where Can I Find The Best Online Horse Racing Betting Sites In Washington?
In Washington, there are no legal roadblocks that residents have to contend with when it comes to online horse racing betting. Because of this, residents have access to literally hundreds of online betting sites. This may sound like a good thing, but sometimes quantity isn't always what it's cracked up to be. To help you navigate through all these sites for sites for sportsbetting in Washington, we've gone ahead and reviewed two of our favorites. These sites have been personally chosen out of the hundreds floating around, coming out on top when it came to customer service quality, the sheer amount of races to wager on, and perks unique to their site.
Bovada - The Best Online Horse Racing Betting Site

If you are interested in Horse Racing in any compacity, then you need to go to Bovada and check out their racebooks. Not only do you get to bet on horse action all over the country, but you can also bet on races in the UK and wherever else there are races. Of course, every one into horse races knows about the Kentucky Derby and the Triple Crown. Bovada not only has odds on races that are currently happening, but there is also a futures section available as well. That means if your favorite horse makes it to the Kentucky Derby, you can already put money on them and generate excitement for the future race!
If you and your friend are interested in using the best online horse racing betting site, then you should check out the refer a friend bonus. After you have gotten used to using the website, you can tell your friends all about Bovada racebooks. Once they seem like they would like to sign up, you can generate a link for them to use. After they sign up and make a deposit, you can get 200% on their first deposit for up to $100. That is an excellent way to get more money into your racebook account!
BetOnline - Number 1 Online Horse Betting Website

Just because there isn't too much racing action going on in Washington, that doesn't mean that residents don't enjoy betting on the ponies. All race fans know that there is plenty of action going on around the country and they want to bet on it. If that sounds like you, then BetOnline is where you need to head to. You will get the odds not only on American horse races but from races all over the country. You can wager on both thoroughbred and harness racing as well.
If that sounds interesting to you, then you should check out these promotions that are specifically for those who enjoy horse racing. If your wagers payout more than $2, then you can earn up to 7% on track rebates. There is no limit so you can earn with the 7% rebate so don't be shy with your bets. If it's your first time using the racebook on BetOnline, you will have a $25 risk-free bet. If your first bet using the racebook fails, BetOnline will give you a refund up to $25. Nothing is better than a risk-free bet, so come to BetOnline and make your wager!
Best Washington Racebooks - 100% Trusted + Safe
| | | | | |
| --- | --- | --- | --- | --- |
| | | 50% Up To $250 | VISA + Wire Transfer | |
| | | 50% Up To $1,000 | VISA, Bitcoin, Cash Wire | |
| | | 50% New Member Bonus! | VISA, Bitcoin | |
| | | 100% Up To $300 | VISA, Bitcoin | |
| | | 50% Up To $1,000 | Bitcoin, Wire Xfer, VISA | |
Can I Legally Bet On Horse Racing In Washington?
According to state code 9.46.010 and 67.16.010, yes, Washington residents can legally bet on horse racing. Residents must place their wagers at a licensed pari-mutuel wagering facility or off-track betting location. In Washington, you need to be at least 18 to bet on horse racing. In addition to your land-based pari-mutuel wagering options, there are also online horse racing betting sites. We have scoured the Washington legal code and found that there is absolutely nothing restricting online horse racing betting.
Because of this, we are happy to say that using an online horse racing betting website is completely legal for Washington residents. Using an online horse betting site, also called an online racebook, gives bettors the chance to wager on racing events that are taking place all over the country, not just in the state. They also give chances to earn extra money and place bigger and better wagers. At the bottom of this page, we go over a couple of our favorite legal online horse racing betting sites for Washington residents.
Where Can I Bet On The Triple Crown?
The Triple Crown is a series of three races held in late spring. Starting on the first Saturday in May, and ending on either the first or second Saturday in June, this elusive title is one that has evaded many a talented horse. Since 1919, there have only been 12 winners. Horses only get one shot at the title.
Because there's so much riding on the Triple Crown, it's a favorite of pari-mutuel wagerers to bet on. In Washington, you can legally bet on the Triple Crown at a licensed off-track location. For those residents who don't live near one of these venues, that could mean quite a few hours spent driving for one race every few weeks.
Fortunately for enthusiasts, there is another legal option. Using an online horse racing betting site gives you ample opportunities to wager on all three legs of the race, while also offering the most competitive odds for Triple Crown competitors. To find the absolute best online horse racing site for you, check out our recommendations below.
Betting On The 2023 Kentucky Derby In Washington
Finding 2023 Kentucky Derby odds in Washington is simple as there are plenty of online racebooks to choose from that have tons of different betting odds. Those include, BetOnline, Bovada, and MyBookie amongst many others. There you will find odds on any aspect of the race that you can think of such as the outright winner, placings for specific horses, and loads of different prop bets. The current odds for the 2023 Kentucky Derby can be found below.
What Kind Of Bets Can I Place On A Horse Race?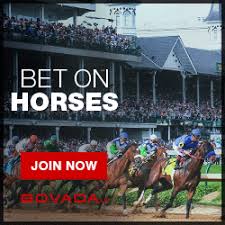 In pari-mutuel wagering, there are two types of bets. Straight bets and exotic wagers. There are three types of straight bets. You have a win bet, where you choose which horse will come in first place. Then there's the place bet. You choose two horses to wager on, and so long as those horses are the first two to cross the finish line, your bet is successful, regardless of which horse is first and which is second. The last kind of straight bet is called a show wager. Here, you choose which three horses you think will finish the race first. Again, you don't have to choose their specific finishing order, they just have to be the first three to finish.
Exotic wagers take straight wagers to the next level. You get the chance to choose multiple horses, but you have to pinpoint their exact order each time. First, you have an exacta, which is choosing the first and second place horse in order. Then there's the trifecta, where you label the first, second, and third place horses. Finally, you have the superfecta, which takes it even further by having you name the exact finishing order of the first four horses. These wagers are much harder to win, and as a result, have much higher payouts than straight bets.
When using an online horse racing betting site, you get access to these types of wagers all the time. You also get access to wager types like daily doubles, where you pick the winner in two straight races, usually either the first two of the day or the last two of the day. You can also do a Pick 3 or Pick 4, which gives you the chance to pick the winners in three or four consecutive races. You can also couple horses on certain occasions, like when they have the same owner or come from the same stable. Coupled horses are considered to be a single entity, so if one of them wins, your bet wins. To find a full list of pari-mutuel wagers, both exotic and straight, you should check out one of the online horse racing betting sites we recommend below.
Are There Any Racetracks In Washington?
In Washington, there is only one horse racing track. Emerald Downs, in Auburn Washington, is open to the public April through October, hosting races and providing a legal pari-mutuel wagering location. When races aren't being hosted at the track, they'll offer odds on some of the more famous races taking place across the country, so that residents have an avenue to wager through. They have a full list of simulcast races they air on their website.
Residents who don't live near Emerald Downs or who don't feel like spending the day driving across the state in order to place a few wagers should think about trying out an online horse racing betting site. These websites provide players with even more opportunities than their land-based counterparts do. To find the right online horse racing betting website for you, check out the recommendations we've made below.
Sports Teams To Bet On In Washington
Betting On The Seattle Seahawks
Betting On The Washington Huskies