The Mariners Sign Ichiro!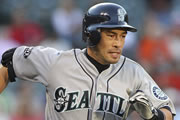 Well, it's official, the Mariners have signed Ichiro! The active MLB hits leader (and most prolific batsman in professional baseball history), Ichiro spent all of the 2017-2018 offseason unsigned before today's call from Seattle. At 44 years old and having been relegated to pinch-hit and utility roles in his last few years with the Marlins, Ichiro is – by all accounts – struggling to face his impending retirement. Until the Mariners signed him, there was serious talk in Japan of Ichiro's return to the Orix BlueWave, where he first donned a professional uniform all the way back in 1992.
That said, it doesn't seem like this is a token sign-and-retire with Seattle, his first Major League team and the club which he will undoubtedly represent when enshrined into Cooperstown. However, there is not much expectation out of the Mariners for Ichiro to earn a starting position with the team, and they seem to have signed him as much for his professionalism and youth-guiding potential as for his above-average security off the bench. Ichiro is, after all, 44 years old, and though he leads the Big Leagues in droves of offensive categories, he is not the same Hall of Fame-level player he was half a decade ago.
As such, this signing is, in some ways, a gesture of goodwill and appreciation on Seattle's part, as Ichiro was the superstar face of the franchise for over a decade. Though Ichiro would have likely preferred to be part of a World Series contender (a World Series ring is the one MLB accolade he doesn't yet have), the outfielder will have to be content with a team in the midst of a competitive rebuild.
The Mariners are not among the expected league leaders this season, and Bovada has them posted at +1600 odds to win the AL Pennant and +4000 odds to win the World Series. Last year, Seattle finished 78-84, tying for third in the AL West and missing the playoffs for the 16th straight season, so being competitive to make the playoffs at all would be a monumental turnaround. (Incidentally, the last time the Mariners secured a postseason berth was in 2001, Ichiro's first year in the Majors.) Ichiro's addition to the roster likely won't move the needle much in Seattle's favor at most betting shops.
Still, it's nice to see Ichiro signed. His skills, while not as sharp as they used to be, are still potentially better than average, and he's only one year removed from a .291 campaign with Miami in 2016. Right now, Baseball Reference projects that Ichiro will have 344 plate appearances with the Mariners in the 2018 season, posting a .246 batting average along with 55 strikeouts. All of those numbers seem unlikely, as he'll probably hit for a higher clip and not have enough ABs to punch out 55 times.
Going forward, SportsBettingWashingtop.com knows one thing to look for at your favorite online sportsbook is Ichiro's career MLB hits ranking, as he's poised to catch and surpass a few huge names in what's likely to be his final season on the diamond. He's currently sitting at 21st on the all-time board, and he's only 30 hits away from passing Dave Winfield for 20th place. Ichiro could conceivably pass Tony Gwynn in career hits this season, as he's only 61 away from leapfrogging the late Padres legend. If he gets close towards the end of the year, expect that to be a big deal at legal online sportsbooks like Bovada and SportsBetting.
Another bet you might come across? Ichiro's odds to surpass fellow Mariner Ken Griffey, Jr., with the highest first-ballot Hall of Fame vote percentage. Griffey's 99.32% is an awfully high mark, but if anyone's ever going to surpass that number, it's Ichiro. Unless he gets popped for PEDs this season, he's got an outside chance at 100%.
Best Washington Sports Betting Sites - 100% Trusted + Safe
| | | | | |
| --- | --- | --- | --- | --- |
| | | 50% Up To $250 | VISA + Wire Transfer | |
| | | 50% Up To $1,000 | VISA, Bitcoin, Cash Wire | |
| | | 50% New Member Bonus! | VISA, Bitcoin | |
| | | 100% Up To $300 | VISA, Bitcoin | |
| | | 50% Up To $1,000 | Bitcoin, Wire Xfer, VISA | |