Sports Betting Bill Could Shift Washington's Position On Online Gambling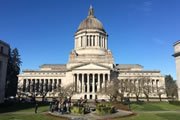 OLYMPIA, Wash. – A brand new house bill is looking to legalize sports betting in Washington state and wants to change how the state views online gambling.
Last week, lawmakers in Washinton introduced WA HB 1975. The aim for this bill is to legalize sports betting in the Evergreen State. Not only that, but this bill will also allow for online sports gambling to take place as well.
As the bill is currently written, sports gambling would be authorized and regulated by Washington's tribal casino operators. The state outlaws all forms of gambling "except where carefully and specifically authorized and operated." The tribes in Washington have been operating casinos for nearly 20 years and there are over 34 tribal casinos. That means the tribes meet all the requirements to operate sportsbooks.
One of the more important factors that this piece of legislation has is that it allows for online sports betting to take place within the casinos. If this bill passes, that would be a huge step forward for the state.
Right now, online gambling is considered illegal in Washington state. In fact, it is a class C felony to wager online. If you are caught making online bets, you can get up to a $10,000 fine or even five years in prison. The state is strict with online gambling and the proposed sports betting bill is hoping to pave the way to break that stance on online wagering. This would be a complete shift in Washington's current position because the state has made a point to make daily fantasy sports illegal as well.
The bill does not go too much into detail on how tribes can regulate sports betting in Washington within their casinos, but that is for their benefit. This allows the tribes to negotiate the terms of sports betting to make sure they and their patrons are getting the best deals possible. But, that means that even if the bill passes this year, sportsbooks will likely not open in Washington one or two years after the fact.
A hearing is scheduled for Thursday where lawmakers will debate the details of the bill. This will be the first hearing that WA HB 1975 will face as it moves up in the State's Congress. If this bill passes, sports betting will be legal in the Washington and it could change how lawmakers view gambling in general.
Best Washington Sports Betting Sites - 100% Trusted + Safe
| | | | | |
| --- | --- | --- | --- | --- |
| | | 50% Up To $250 | VISA + Wire Transfer | |
| | | 50% Up To $1,000 | VISA, Bitcoin, Cash Wire | |
| | | 50% New Member Bonus! | VISA, Bitcoin | |
| | | 100% Up To $300 | VISA, Bitcoin | |
| | | 50% Up To $1,000 | Bitcoin, Wire Xfer, VISA | |